Polycarbonate & PVC Liner Panels
CoverLite ® Corrugated Polycarbonate
Our polycarbonate sheets are an effective alternative to traditional glazings in a wide variety of applications including: Sidelites, Home Greenhouses, Office Partitions, Vertical Glazing, Industrial Roofing, Pool Enclosures, Patio Covering, Window Replacement, Metal Buildings, Skylights, Domes, Shelters, Canopies, Sheds, Walkways, Carports, Sunrooms, Commerical Greenhouses.
Several types of corrugated polycarbonate panels are offered.
Corrugated for Metal Buildings
Available in standard colors: clear, bronze, and opal. In addition to the qualities of our standard corrugated, CoverLite ® corrugated sheet matches most standard metal roofing profiles. Making a simple skylight or sidelight is a snap with CoverLite ® Corrugated for Metal Buildings!
Greca Corrugated Polycarbonate
Available in standard colors: clear, bronze, opal, softlite. Ideal for greenhouses and other applications where excellent light transmission is need in a lightweight sheet. Extensive research and development ensure all corrugated sheets have a high resistance to the harmful effects of wearther: both in the impact strength to resist hail damage and in UV protection.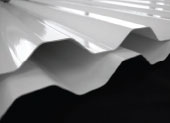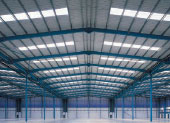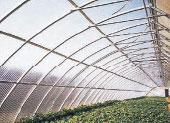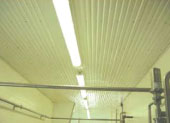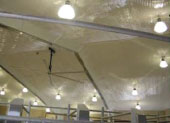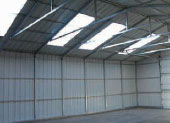 CoverLite ® Metal Roofing
Property
Test Method
Average Index
Specific Gravity
ASTM D792
1.20+/-5
Tensile Strength
ASTM D638
9.2 lbs/in2
Elongation
ASTM D638
7
Compressive Strength
ASTM D695
830 kgf/cm2
Modulus of Elasticity
ASTM D638
345000PSI+/-10%
Flexural Strength
ASTM 790
950 kgf/cm2
Yellow Index (only UV-Grade apply)
ASTM D1925
Below 3.0
Light Transmittance
Wave Length 500nm (UV/VIS)
1.20+/-5
UV-Ray Penetrability (only UV-Grade apply)
Wave Length 300nm (UV/VIS)
(continuously exposed to sunlight for 3,000 hrs)
9.2 lbs/in2
Impact Strength
ASTM 3029
7
Inflammability
UL 94V2 (contact with flame for 10s and move away)
830 kgf/cm2
Deflection Temperature
ASTM D648, 18.6 kgf/cm2
345000PSI+/-10%
Brittle Temperature
ASTM 764
950 kgf/cm2
Linear Thermal Expansion Coefficient
---
Below 3.0
Corrugated PVC Liner Panels
Agricultural: Hog barns, dairy farms, poultry farms, fish farms, fertilizer storage. Industrial: Factories, food processing, meat packaging, salt storage. Commercial: Car/Truck washes, marinas, loafing sheds, workshops.
Corrugated PVC Liner Panels are a great economical alternative to metal!
Profiles
Our PVC profiles are available to make your installation effortless and improve the look of the finished interior walls and ceilings.

Details
Profile
Agrilite Greca
Agrilite 9"
Panel Widths
38"
38"
Lengths
Standard Lengths in both profiles:
8'2", 10'2", 12'4", 16'4", 20'4".
Custom sizes available by special order.
Thickness
0.032"
0.039"
Color
Brite White
Brite White
Warrancy
Agrilite™ Panels are backed by a 10 year Limited Warranty.